Where you take your car after a collision, is your decision
The clear decision in Colorado Springs is Clear Max Collision. We care about doing the best job for you and guarantee our work for as long as you own your vehicle.
Your Local Certified Collision Center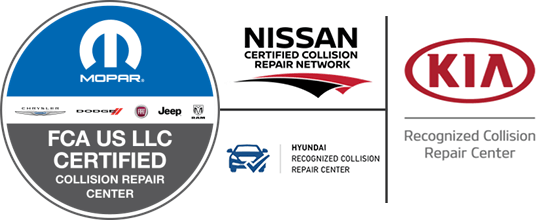 RAM, Dodge, Jeep, Chrysler, FIAT, Nissan, Hyundai and KIA
Our stress-free repair process
Step 1: Vehicle Drop Off + Check-in
We provide a full video recording of your vehicle to document initial damage as well as additional dings and dents!
Step 2: Damage Assessment
Our goal is to complete your car in the time we estimate, barring any additional damage being found once disassembly has begun.
Step 3: Paint Refinishing
Our painter has over 35 years of experience and is an artist.
Step 4: Reassembly
We ensure that everything goes back together correctly, that components function properly and the vehicle will be safe and perform as expected.
Step 5: Wash Exterior + Quality Assurance & Pickup!
You get your car back! All repairs must be paid in full, unless prior arrangements are made with the owner.

"My collision repair went very smooth. From the estimate to the checkout everything was done swiftly and accurately. The repair looks great and was done sooner than expected. The insurance company also liked the quality of the estimate and accepted it with no concerns."
Ryan Tanner

"Getting my car repaired at Clear Max was the best choice I could make! It looks absolutely amazing and is holding up well despite the weather being crazy. As soon as I walked in the door the experience was wonderful. Such kind people, and I will 100% refer anyone I know to get repairs here!!"
Krystyne Abeyta

"Great owners. Answered all my questions… even the little ones. Pushed my van in every night so nothing would get stolen. In addition, they gave us some real sound advice to protect ourselves. Very grateful they were recommended to me. I have recommended them to others already."
Greg Swartz