Best Auto Body Shop in Colorado Springs
Clear Max Collision Center is your choice for auto body shops in Colorado Springs.
Your colorado springs auto body shop
---
Certified. Experienced. Guaranteed.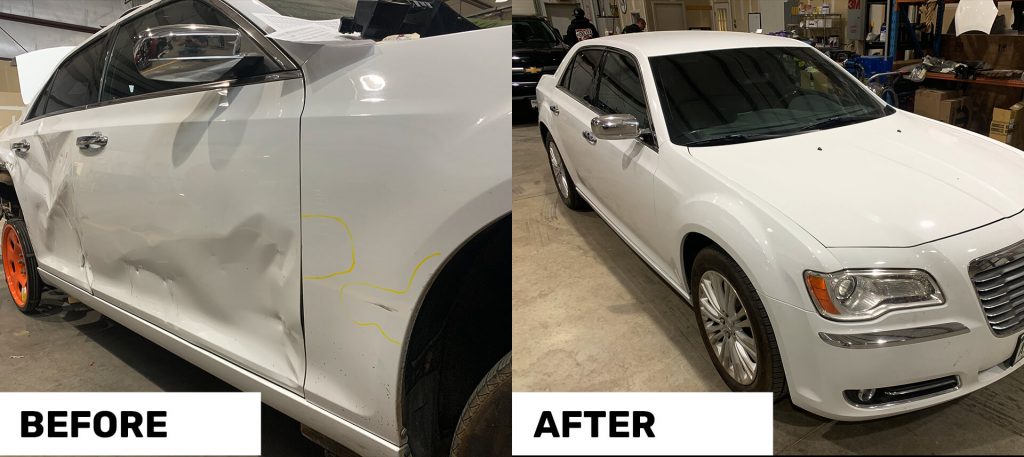 Where you take your car for auto body repair is your decision.
---
The clear decision for auto body shops in Colorado Springs is Clear Max Collision. We care about doing the best job for you and guarantee our work for as long as you own your vehicle.
Why Choose Us?
---
We offer FREE estimates!
We accept any and all insurance companies.
We have a friendly, personable, competent staff that will treat you with respect.
We guarantee our work for as long as you own your vehicle.
We work directly with the insurance company so that you don't have to!
Best Auto Body Shops in Colorado Springs: Our Process
Clear Max Collision now provides certified collision repair in Colorado Springs, which ensures customers that our auto body repair shop will adhere to the latest industry quality and safety standards.
This guarantees that auto body repairs by our certified auto body shop will be performed according to the manufacturer's repair protocol by a properly trained and qualified technician, using the correct tools and equipment for the job.
This certification was provided by Assured Performance Collision Care of Aliso Viejo, California, a nonprofit consumer advocacy organization that promotes automotive safety within the collision care industry.
The new certifications for Clear Max Collision come with industry recognition by the top automotive manufacturers including Assured Performance, FCA, Hyundai, Kia, and Nissan.
Clear Max Collision is now an integral part of the most advanced repair capable and efficient collision care network in the world.
We are your choice for auto body repair shops in Colorado Springs!
Step 1: Vehicle Drop Off + Check-in

We provide a full video recording of your vehicle to document initial damage as well as additional dings and dents!
Step 2: Damage Assessment

Our goal is to complete your car in the time we estimate, barring any additional damage being found once disassembly has begun.
Step 3: Paint Refinishing

Our painter has over 35 years of experience and is an artist.
Step 4: Reassembly

We ensure that everything goes back together correctly, that components function properly and the vehicle will be safe and perform as expected.
Step 5: Wash Exterior + Quality Assurance & Pickup!

You get your car back! All repairs must be paid in full, unless prior arrangements are made with the owner.
Success Stories
---
Some kind words from former clients.
Great owners. Answered all my questions… even the little ones. Pushed my van in every night so nothing would get stolen. In addition, they gave us some real sound advice to protect ourselves. Very grateful they were recommended to me. I have recommended them to others already.
Mark W
My collision repair went very smooth. From the estimate to the checkout everything was done swiftly and accurately. The repair looks great and was done sooner than expected. The insurance company also liked the quality of the estimate and accepted it with no concerns.
Ryan T
Getting my car repaired at Clear Max was the best choice I could make! It looks absolutely amazing and is holding up well despite the weather being crazy. As soon as I walked in the door the experience was wonderful. Such kind people, and I will 100% refer anyone I can!
Krystyne A
Auto Body Shops Colorado Springs: FAQ
What are the Top 5 Questions to Ask Your Auto Body Repair Shop?

What are the Top 5 Questions to Ask Your Auto Body Shop?

When it comes time to choose the best auto body repair shop, time and effort put into research will save you a considerable amount of time and money. Moreover, you will ensure the professionalism of your body repair as well as maximize the resale value of the vehicle. Here are the top 10 questions we recommend you ask your auto body shop in Colorado Springs.

1. What is your warranty? A proper understanding of all the terms and conditions of the warranty of the auto body repair shop is essential to assessing the pros and cons. You should also know the validity period of the warranty. Clear Max Collision warranties our work for as long as YOU own the vehicle.

2. Are you a certified auto body repair shop? We recommend seeking a certified auto body shop in Colorado Springs to ensure they maintain quality standards. This ensures the quality of service. We are a certified collision center for RAM, Dodge, Jeep, Chrysler, FIAT, Nissan, Hyundai and KIA.

3. What is the duration of the repairs? There is no short answer here, as auto body repair time will vary. As a general guideline, most small repairs take 3-5 working days and a large collision can take up to a month. This does not account for delays in receiving parts, insurance issues, or highly difficult repairs. Completing work quickly is important to all parties, but most important is a proper and safe repair that returns your vehicle to its pre-loss state or better!

4. Do you have experience with my car model? If you own a foreign or rare car model, it is important to ensure that your choice for auto body shops in Colorado Springs is comfortable repairing your vehicle.

5. Can you paint my car with exactly the same color? Most vehicles have a paint code attached to the body. It is very important to ensure that your Colorado Springs auto body repair shop is able to exactly match the paint. If not, the resale value of your car will quite possibly decrease.



Your colorado springs auto body shop
---
Certified. Experienced. Guaranteed.